April 28, 2023
For a dog breed to find itself on the American Kennel Club's registry, certain specific requirements must be fulfilled. This process is not an easy one, as the American Kennel Club is extremely selective. The below listed dog breeds may have been in existence for a very long time, but were all just recently added to their list. They range in shapes and sizes and origins, but the one thing they all have in common is they are amazing dogs.
Pumi Dog
The Pumi is a very curly-coated breed of dog that originated in Hungary. The compact size of this breed allows them to move flocks down narrow paths into pastures. The Pumi was registered with the AKC in 2016 despite having roots tracing back to the early 1800s. Although the Pumi may look like a relaxed and calm lapdog, they are hard workers with a very agile, quick, and athletic side. This breed, although very rare, does make a terrific family pet.
Sloughi Dog
The Sloughi is a North African dog which is very popular in Morocco. This breed has a very similar appearance to the Saluki, which was bred for hunting small game. Although the Sloughi has been around for centuries, it was not until 2016 that the American Kennel Club recognized it. This breed is best known for its speed, strength, agility, and endurance. They are very loyal, devoted, caring and outgoing dogs that make great pets.
Bergamasco Sheepdog
The Bergamasco Sheepdog originated in Italy. They are well known for their curly and long coats and their ability to be master herding dogs. They are very outgoing, hardworking, and friendly dogs that are not known for being aggressive. Thanks to their build and coat quality, they do well working in cooler climates, such as the Alps. The Bergamasco Sheepdog makes a great family pet and is one the whole family will love.
Boerboel Dog
The Boerboel is a Mastiff-type breed of dog that is large and somewhat intimidating looking. They are very powerful and strong dogs that were used as guard dogs and to do work around the farm. The name, with its Dutch origins, translates to "farmer dog." Many Boerboel owners would describe their dogs as very loyal and protective and are known not to leave their side. One of this breed's top qualities is that is has an incredible level of loyalty and seeks your companionship. The Boerboel does make a great family pet and with training at a young age can do well with other pets in the family.
Lagotto Romagnolo Dog
The Lagotto Romagnolo dog breed originated in Italy. They are known for their ability to hunt and are considered by many to be top working dogs. They specialize as a water retriever and thanks to their dense and thick coats, are able to withstand cold temperatures. The Lagotto Romagnolo is a very old breed of dog that has roots that date back to the 1400s. The American Kennel Club did recognize the Lagotto Romagnolo in 2015. This dog is a loyal and obedient breed which does well as a family pet.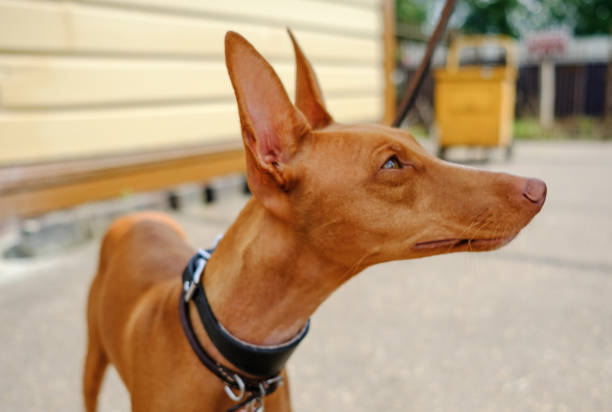 Cirneco dell'Etna Dog
The Cirneco dell'Etna is an Italian hunting dog that has roots tied to the Italian island of Sicily. This breed is known for its amazing ability to hunt small game such as rabbits and squirrels. The Cirneco dell'Etna are very athletic dogs who are fast, agile, and very focused. Today's Cirneco dell'Etna makes a fantastic family pet and a great companion dog. They are known for their short and smooth coat and large ears. Although this breed has been in existence for centuries, they were not recognized by the American Kennel Club until 2015.